My latest book, High-Tech Housewives: Indian IT Migrants, Gendered Labor, and Transmigration, was published by The University of Washington Press! You can order you copy here: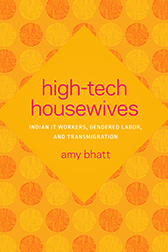 High-Tech Housewives
Indian IT Workers, Gendered Labor, and Transmigration

Tech companies such as Google, Amazon, and Microsoft promote the free flow of data worldwide, while relying on foreign temporary IT workers to build, deliver, and support their products. However, even as IT companies use technology and commerce to transcend national barriers, their transnational employees face significant migration and visa constraints. In this revealing ethnography, Amy Bhatt shines a spotlight on Indian IT migrants and their struggles to navigate career paths, citizenship, and belonging as they move between South Asia and the United States.
Through in-depth interviews, Bhatt explores the complex factors that shape IT transmigration and settlement, looking at Indian cultural norms, kinship obligations, friendship networks, gendered and racialized discrimination in the workplace, and inflexible and unstable visa regimes that create worker vulnerability. In particular, Bhatt highlights women's experiences as workers and dependent spouses who move as part of temporary worker programs. Many of the women interviewed were professional peers to their husbands in India but found themselves "housewives" stateside, unable to secure employment because of visa restrictions. Through her focus on the unpaid and feminized placemaking and caregiving labor these women provide, Bhatt shows how women's labor within the household is vital to the functioning of the flexible and transnational system of IT itself.
Amy Bhatt is associate professor of gender and women's studies at the University of Maryland, Baltimore County. She is the coauthor of Roots and Reflections: South Asians in the Pacific Northwest.
---
"Mapping the arrival of H-1B workers from India and marriage migration, their lives in Seattle, and following them on their return to India, High-Tech Housewives provides a longue durée perspective on Indian transmigrants. Thick with descriptive narrative, High-Tech Housewives takes us into the lives of these individuals."
-Sharmila Rudrappa, author of Discounted Life: The Price of Global Surrogacy in India"High-Tech Housewives makes a significant contribution to our understanding of the transnational circulation of technical labor, by highlighting the role of the household in the reproduction of the global Indian IT workforce. Through rich ethnographic detail, the book documents the experiences and predicaments of dependent spouses of temporary H1-B visa workers in the US and after their return to India, providing a human face to current debates on immigration. It is a welcome addition to the transnational and migration studies, gender and labor studies, and anthropology."
-Carol Upadhya, author of Reengineering India: Work, Capital, and Class in an Offshore Economy
"A seminal book about how US immigration policy influences the lives of temporary workers and their families, many of whom find themselves in liminal spaces, in between nations, homes, and employment. Amy Bhatt provides readers with a clearer understanding of the problematic positions that Indian temporary workers and their families face as a result of immigration laws that prioritize economic gain over the needs of migrants."
-Deepa Iyer, author of We Too Sing America: South Asian, Arab, Muslim, and Sikh Immigrants Shape Our Multiracial Future
"A thoughtful examination of how immigrant women build lives and labor within the constraints of the US state, high-tech capitalism, and transnationalism, and enable a global economy."
-Pawan Dhingra, Amherst College
"High-Tech Housewives provides a long overdue study on the large but overlooked group of temporary migrant professionals in the United States, H-1B workers, and their dependents, H-4 visa holders. This book makes an invaluable contribution by focusing on the plight of H-4 dependents, the wives, who are multiply displaced by their disqualification from labor market participation, increasing their dependence on their husbands and heightening the isolation of their migration."
-Rhacel Salazar Parreñas, author of Servants of Globalization: Migration and Domestic Work
"Amy Bhatt offers an empirically rich, theoretically nuanced account of high-tech immigration to the United States, drawing important attention to the interplay of gender, occupation, and family dynamics. This book is essential reading on how the 'temporary' migration of high-skilled workers and their families are fundamentally reshaping our notions of citizenship, social relations, and national belonging."
-Karthick Ramakrishnan, director of AAPI Data and professor of public policy, University of California Riverside