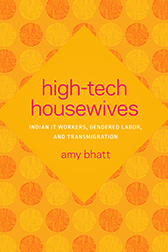 High-Tech Housewives: Indian IT Workers, Gendered Labor, and Transmigration
Available now for order through the University of Washington Press.

My book offers a critical feminist perspective on the role the household plays in sustaining circulating forms of migration. Examining the intimate lives and domestic spaces created by middle-class Indian information technology (IT) workers, this book argues that women's labor within the household is vital to sustaining flexible and transnational systems of labor exchange.  On one hand, these mobile workers are hailed as a part of the success story of globalization and viewed as a solution to skilled labor shortages in the United States. They are extoled as valued liaisons between U.S.-owned businesses and India-based satellite offices, contract agencies and workers. On the other hand, they are disciplined by immigration restrictions that classify them as temporary workers through the H-1B visa program, which limits their long-term settlement possibilities in the United States. Despite this contradiction, Indian IT professionals nonetheless strive to position themselves as valuable knowledge workers in both India and the United States and continue to seek entry to the United States.
I argue that these migrants must develop gendered household-level strategies such as starting families, building friendship networks, and establishing transnational communities in order to remain useful intermediaries while capitalizing on employment opportunities offered by transnational corporations. These place-making activities allow them to claim belonging in multiple national locations, while simultaneously reiterate their value as ideal global workers and citizens.
This positioning is achieved not merely because of workers' presumed work ethic or adherence to cultural norms (as commonly narrated by industry and national leaders), but because of the unpaid, invisible and gendered labor of Indian women. Women are most often incorporated into narratives about Indian IT dominance through their capacity as coders or programmers, even though they are underrepresented in the transnational IT workforce overall. In reality, many more Indian women travel as part of this migration as wives and secondary income-earners. Despite this growing population of Indian women migrants, there is little scholarship exploring how their work and roles within the household make the conditions for flexible work possible. This book addressed the scholarly gap concerning women's important, yet undervalued role in maintaining the contemporary global IT migration system, by asking:
What roles do gender and family norms play in sustaining global IT migration?
How do these workers' practices and work-life decisions shift our understandings of gender, race, class, nationality, and the value of citizenship?
Through in-depth interviews, I explore the complex factors that shape IT transmigration and settlement, looking at Indian cultural norms, kinship obligations, friendship networks, gendered and racialized discrimination in the workplace, and inflexible and unstable visa regimes that create worker vulnerability. In particular, I highlight women's experiences as workers and dependent spouses who move as part of temporary worker programs. Many of the women interviewed were professional peers to their husbands in India but found themselves "housewives" stateside, unable to secure employment because of visa restrictions. Through my focus on the unpaid and feminized placemaking and caregiving labor these women provide, I show how women's labor within the household is vital to the functioning of the flexible and transnational system of IT itself.
Reviews:
"Mapping the arrival of H-1B workers from India and marriage migration, their lives in Seattle, and following them on their return to India, High-Tech Housewives provides a longue durée perspective on Indian transmigrants. Thick with descriptive narrative, High-Tech Housewives takes us into the lives of these individuals."
-Sharmila Rudrappa, author of Discounted Life: The Price of Global Surrogacy in India
"High-Tech Housewives makes a significant contribution to our understanding of the transnational circulation of technical labor, by highlighting the role of the household in the reproduction of the global Indian IT workforce. Through rich ethnographic detail, the book documents the experiences and predicaments of dependent spouses of temporary H1-B visa workers in the US and after their return to India, providing a human face to current debates on immigration. It is a welcome addition to the transnational and migration studies, gender and labour studies, and anthropology."
-Carol Upadhya, author of Reengineering India: Work, Capital, and Class in an Offshore Economy
"A seminal book about how US immigration policy influences the lives of temporary workers and their families, many of whom find themselves in liminal spaces, in between nations, homes, and employment. Amy Bhatt provides readers with a clearer understanding of the problematic positions that Indian temporary workers and their families face as a result of immigration laws that prioritize economic gain over the needs of migrants."
-Deepa Iyer, author of We Too Sing America: South Asian, Arab, Muslim, and Sikh Immigrants Shape Our Multiracial Future
"A thoughtful examination of how immigrant women build lives and labor within the constraints of the US state, high-tech capitalism, and transnationalism, and enable a global economy."
-Pawan Dhingra, Amherst College
"High-Tech Housewives provides a long overdue study on the large but overlooked group of temporary migrant professionals in the United States, H-1B workers, and their dependents, H-4 visa holders. This book makes an invaluable contribution by focusing on the plight of H-4 dependents, the wives, who are multiply displaced by their disqualification from labor market participation, increasing their dependence on their husbands and heightening the isolation of their migration."
-Rhacel Salazar Parreñas, author of Servants of Globalization: Migration and Domestic Work
"Amy Bhatt offers an empirically rich, theoretically nuanced account of high-tech immigration to the United States, drawing important attention to the interplay of gender, occupation, and family dynamics. This book is essential reading on how the 'temporary' migration of high-skilled workers and their families are fundamentally reshaping our notions of citizenship, social relations, and national belonging."
-Karthick Ramakrishnan, director of AAPI Data and professor of public policy, University of California Riverside